The focus on work with consumers is a key indicator of the Company's effective management system. The customer-oriented approach is based on the responsibility for electric power quality and its timely supply.
Interaction with consumers implies their informing, obtaining and analyzing their opinions and providing timely feedback, which allows to resolve any arising issues promptly, to increase the service quality level continuously and to satisfy customers' needs.
Our consumers are:
Consumers receiving power transmission services
Consumers receiving technological connection services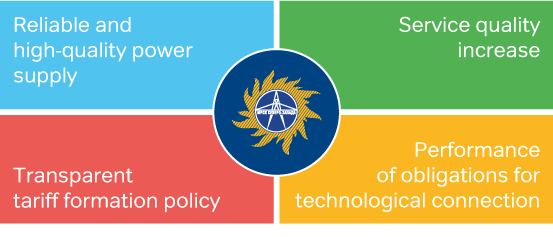 Interaction forms
2011-2012 events
Information disclosure
The Company carries out regular information disclosure at all servicing stages: connection to electric grids, operations with metering devices, payment for electric power, response to emergency situations.


In the reporting period, in order to increase the transparency level the Company edited and systematized information in the section "Normative Documents" of the corporate site.

Hot line
A hot line "Turn the light on" is organized on the corporate site of the JSC IDGC of the North-West and the Company's branches. A 24-hour channel ensures prompt connection with consumers in case of the mass power breakages.


In the reporting period works for improvement of availability and efficiency of "hot line" operation were carried out.

(In-person) customer service centers (CSC)
Customer Service Centers operate in the Company's branches.


In the reporting period, in order to increase the level of customer service, works for expansion of areas of CSCs were performed, an interactive map of CSCs was launched on the corporate site, and the section of CSCs contact information was extended.

Questionnaires, surveys
In order to increase the quality of customer service and to analyze customers' opinions on the services provided, CSCs, production departments and REGs of the Company's branches carry out in-person interviews of customers on a regular basis. Online surveys and a form to make a claim (complaint) are also organized on the corporate website.
Corporate website IDGC of the North-West
An interactive portal Internet Reception was launched on the corporate website in 2011. A range of services was introduced in the reporting period: portal on electric safety "Make friends with electricity", tool "To fill out an application of intent" for technological connection, interactive guide on energy efficiency, e-map of utilization of main substations.